Our plant in Gniezno, Poland
Facts
Employees: 148
Building area: 8.400 m²
Year of foundation: 2016
The KIRCHHOFF Automotive site in Gniezno/Poland, in operation since 2016 and in the special economic zone Kostrzyńsko-Słubicka, specializes in spot welding and welding processes of metal structural elements for the chassis of passenger cars and commercial vehicles. All processes are based on innovative solutions and high standards in order to provide our customers with products of the highest quality. In 2019, the plant was significantly expanded, increasing the production, logistics and office space, which enabled the acceptance of new production programs. New automated welding and spot welding lines adorn the plant, which contributes to the expanded production capabilities.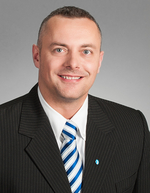 Name:

Maciej Brewka


Address:

KIRCHHOFF Polska Sp.z.o.o.

ul. H. Cegielskiego 14

62-200 Gniezno

POLAND

Contact
Working and living in the region
Gniezno is a very special place in Poland, because historically it is the cradle of Polish sovereignty. It was the first capital and the place where Bolesław Chrobry was crowned the first king of Poland. The Gniezno Cathedral was chosen as the resting place for the missionary martyr Adalbert, who was later canonized. His grave was the pilgrimage destination of the German King Otto III during the Congress of Gniezno. These important events led to Gniezno being one of the main attractions on the Piast route today.
Gniezno is located in the western centre of Poland, in the centre of the Wielkopolska region, about 50 kilometres east of Poznań. The S5 motorway provides a very good connection between Gniezno and Poznań and also leads directly to the airport in Ławica.
The largest educational institutions are the state university Hipolit Cegielski for higher education which educates engineers, the Institute of European Culture which is an area of the Adam Mickiewicz University in Poznań, and last but not least the "Milenium" University Gniezno which offers interdisciplinary degrees.
Above all, Gniezno is a place full of magnificent monuments and home to a beautiful Gothic cathedral in the state centre. The Royal Cathedral of Gniezno with its famous double-wing bronze door and the relics of St. Adalbert - patron saint of the city - is also called by historians the mother of all Polish cathedrals. The Museum of Origins of the Polish State is another attraction.