Our plant in Pitești, Romania
Facts
Employees: 40
Building area: 3.100 m²
Year of foundation: 2018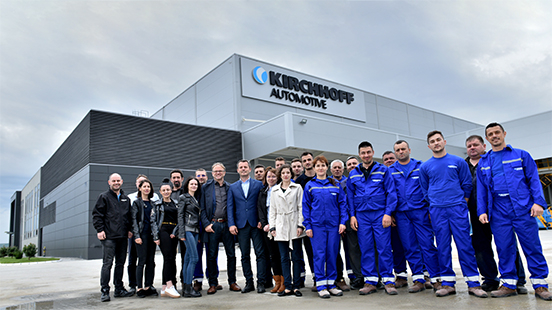 From the groundbreaking to series production in less than a year: Now around 90 different parts for passenger cars and commercial vehicles for the customers Volkswagen, Daimler, Ford and PSA are produced in the second KIRCHHOFF Automotive plant in Romania at the Piteşti site.
The plant was built according to the latest Lean standards. In addition, the team implemented Industry 4.0 on the shop floor.Just seven months after the groundbreaking, the production area was completed in December 2018 and the first presses were installed in January 2019. Series production finally started in March 2019. The plant in Piteşti supplies further European KIRCHHOFF Automotive locations as well as customers in Eastern Europe with stamping parts. Its situation in a unique location allows for quick deliveries.
Name:

Gabriel Porojan


Address:

KIRCHHOFF Automotive Romania SRL

Henry Ford Street no. 29

200745 Craiova

ROMANIA

Contact
Working and living in the region
Tulipanes e Industria
Opposites attract. The Romanian city of Piteşti, where our youngest plant is located, is famous for both – a balance of living and working between flowers and green fields.
Pitești, the capital of Argeș County, is one of the oldest settlements in Romania. According to archaeological discoveries, the Argesseni tribe (dwellers on the banks of the Argessos river) led by Dromihetes, occupied this area. Albota Castro is the historic monument that stands today as a symbol of this past. The land Pitesti stands on is strong with economic exchange between its inhabitants and people living south of the Danube River, commerce dating back since 1388.
Pitești is also home to one of the oldest fair grounds in Romania. During the communist period, the stoic representative buildings on the fair grounds were replaced by green areas, with each section having its own specific florals. Since 1972, the city started an event to plant different varieties of tulips brought form other parts of the country and even other parts of the world. Tulips are the symbol of the city of Pitești, appearing also on the city's coat of arms. This is how the city gained its name as "the city of tulips".
Each year during springtime, Pitești is host to a festival and fair known as the Tulip Symphony. Typically held in the city's cultural center building (Casa Cărții), the festival in addition to the new flowers planted, includes folk music performances, international scientific conferences, an art exhibit, and youth sport competitions.
Simultaneously in the 1970s, Pitești also became one of the major industrial centers in Romania. Currently, the city is the center of automotive industry in the country – hosting the biggest OEM in Romania as well as various renowned worldwide automotive suppliers.