Our plant in Attendorn, Germany
Facts
Employees: 660
Building area: 34.000 m²
Year of foundation: 1973
At our plant in Attendorn, we produce metal structure parts for the passenger car segment of the international automotive industry. Linked to the plant is a research and development centre as well as a tool manufacturing plant; At the KIRCHHOFF Automotive Tec Centre in Attendorn, our engineers develop hybrid products made of metal and plastic, and steel and aluminium structures for the body in white, in order to offer our customers global solutions for their specific regional requirements. Joining technologies including glueing, clinching, toxing, riveting, and screwing are used for the assembly of the hybrid structures.
In the tool manufacturing plant, we develop and produce tools and devices for a variety of presses. Because of their close proximity to our production plants, all processes involved in the manufacture of tools can be designed according to the series production, for example through test runs on servo presses and hot forming lines.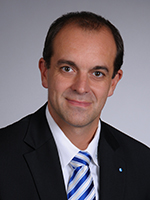 Name:

Artur Rath


Address:

KIRCHHOFF Automotive Deutschland GmbH

Am Eckenbach 10-14

57439 Attendorn

GERMANY

Contact
Working and living in the region
The Hanseatic town of Attendorn boasts 800 years of history. As the economically strongest community in southern Westphalia, it is inextricably linked to the iron and metal industries. Thanks to its close location to the Bigge Reservoir dam it also offers many possibilities for leisure and recreation.
The historical old town welcomes both locals and tourists, whether window shopping or relaxing in one of the many cafés. The residents of this historical town are proud of their traditions: on Shrove Tuesday (known in Germany as Veilchendienstag, or Violet Tuesday) the carnival committee puts on southern Westphalia's largest carnival procession. The marksmen's fair (Schützenfest) also counts as one of the many street festivities, which have become fixed features on the Attendorn calendar.
For children not yet of school age, KIRCHHOFF Automotive offers childcare facilities at the corporate day-care centre. The education and teaching systems are excellently equipped. The local companies all work alongside the local schools and academies.
And various recreational activities are available at your doorstep, particularly for those with young families. Germany's largest and probably most beautiful stalactite cave - the Atta Cave - is located nearby. Numerous villages in the surrounding countryside are actually located within the boundaries of the Nature Park Teutoburg Forest/Eggegebirge, which offers a well-developed walking and cycling network.The Bigge Reservoir dam is situated south of the town. Together with the Lister Reservoir and the Anhauser Reservoir it makes up a large recreational area, which also leaves no wish unanswered for water sports fanatics.