Our plant in Atlanta, USA
Facts
Employees: -
Building area: 9.400 m²
Year of foundation: 2021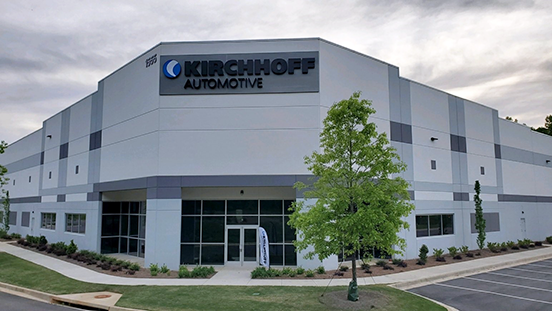 Starting in May of 2022, KIRCHHOFF Automotive Atlanta will begin production of diverse metal structural parts for the automotive industry. With an overall size of 101,337 sqft, the plant is getting prepared to launch new programs with our OEM partners. The core competencies of this location include; spot welding, projection welding and assembly.
Name:

Erika Montiel


Address:

KIRCHHOFF Automotive Atlanta Inc.

1555 Hurricane Shoals Rd

Dacula 30019 GA

USA

Contact
Working and living in the region
Dacula is a city in Gwinnett County, Georgia, United States. It is a suburb of Atlanta, located approximately 37 miles (60 km) northeast of downtown. The population as of the 2010 census was 4,442, and the U.S. Census Bureau estimated the population to be 6,255 as of 2018. Dacula has a humid subtropical climate with temperatures ranging from 91F / 33C in the summer and 31 F /-1 C in the winter. The unique small-town experience created and maintained in Dacula has helped to shape a sense of community found nowhere else. They retain a hometown feel and extend to residents and visitors their southern hospitality. It is a good place to raise a family. Dacula is an inclusive community where businesses thrive and residents maximize potential through world-class schools, opportunities for life-long learning, a vibrant economy, diverse partnerships, and a superior quality of life.
Dacula is at the Center of Georgia's Innovation Crescent. The innovation crescent is a geographic area and a coalition of fifteen counties and other entities. It includes Gwinnett County and all of the City of Dacula. But Dacula is much more than that. The Innovation Crescent covers nearly 40 percent of Georgia's population. This is Georgia's hub for life sciences. It is Georgia's answer to the Research Triangle in North Carolina. The crescent includes top research organizations such as Emory University, Georgia Institute of Technology, the University of Georgia, the CDC, Georgia Gwinnett College, and Gwinnett Tech. It includes a wide range of scientific companies, large and small. The Innovation Crescent is becoming the hub of life science in the Southeast.