Our plant in North York, Canada
Facts
Building area: 12.770 m²
Year of foundation: 1997
KIRCHHOFF Automotive in North York specializes in the assembly of metal structure parts.Various welding processes are being used to manufacture small to large assemblies , including parts with class A surface , for an extensive base of customers. The welded parts are then surface coated in the E-Coating system.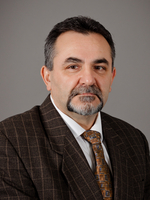 Name:

Lucian Maduta
Plant Manager

Address:

KIRCHHOFF Automotive
North York

114 Clayson Road

North York, Ontario M9M 2H2

CANADA

Contact
Working and living in the region
The Greater Toronto Area (GTA) comprises the city of Toronto itself, as well as the municipalities of Durham, Halton, Peel, and York. Our plant in Aurora is located in the municipality of York.
As of 2010, The GTA surpassed 6.2 million inhabitants, covering 7,125 km2 – a large part of which is made up of grassland and forests. The city itself lies on the north-western bank of Lake Ontario.
The GTA is Canada's economic center. It is one of the leading financial districts worldwide, generating approximately one fifth of Canada's GNP; 40% of all Canadian companies have their headquarters here. On top of this, the GTA is the second largest automobile center in North America. The majority of vehicle manufacturers also have their Canadian headquarters in this region. The assembly plants for General Motors, Ford, and Chrysler are located here, while the assembly plants for Honda and Toyota lie just outside the Greater Toronto Area.
Toronto is one of the three largest cultural centers in Canada, and offers many tourist attractions. The view from Lake Ontario towards the city offers an impressive view of skyline, including the CN Tower and the Rogers Centre with its white retractable dome.