From a single part to the body-in-white structure
Ever since cars have existed, we have been developing, producing, and supplying metal parts—and, for the vehicles of today, hybrid structures—for the automotive industry. From a manufacturer of individual parts, we have grown into an internationally recognized development supplier of components and body-in-white structures.

KIRCHHOFF Automotive provides vehicles worldwide with extra stability and safety.
But we also offer our customers much more than that: we make a considerable contribution to the growth of their competitiveness.

The crucial cost and logistical advantages of our streamlined, medium-sized company structure with international presence serves a single purpose: to drive the market success of our customers and safeguard our innovative strength and earning power. This is our pledge worldwide.

01-06-23
"Multitasking" in Hungary
A lot has happened at the KIRCHHOFF Automotive plant in Esztergom/Hungary since the site was founded in 2004. After several expansions, almost all products in our portfolio can be manufactured at the plant. A new construction phase was initiated at the end of 2022.
It all started with the production of welded assemblies for Suzuki. In 2007, pressed parts were added to the portfolio. The acquisition of large transfer presses with press forces of up to 1,600 tons and the introduction of press hardening technology in 2012 required an expansion of the press shop. Gradually, the plant developed into a full site. This means that we can produce almost all the products in our portfolio here.
2022, we have also succeeded in winning orders for larger and more complex assemblies. To meet the ambitious schedule, we are temporarily using an existing production and logistics hall in nearby Dorog. From late summer, 70 employees will produce the first assemblies here on 6,400 m² of state-of-the-art production lines and deliver them to our customers.
Due to extensive orders from our customers, the next construction phase at our Hungarian headquarters was initiated at the end of last year. Two production and logistics halls will be built on an area of over seven hectares. A total of 5,500 m² is earmarked for the installation of new welding equipment. From summer 2024, 80 new employees will ensure smooth production processes there. For the first time, we will also implement new logistics concepts here.
To ensure that all construction projects and machinery investments are available on time, we are working together in project and start-up teams. Experienced engineers and technicians from the local departments and the global Central Service will provide intensive support for the new startups.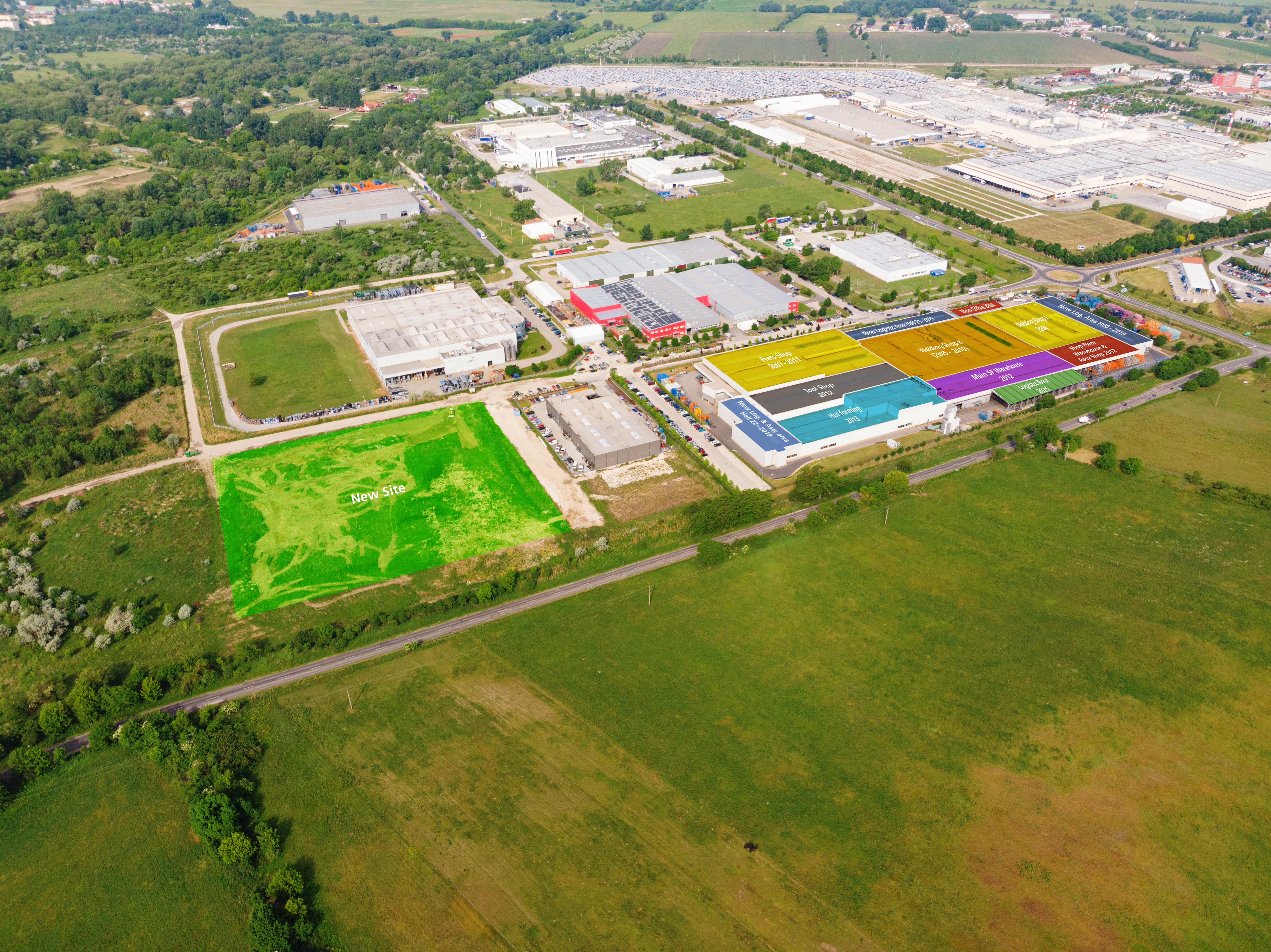 ---